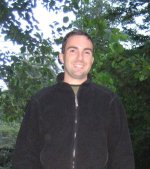 About Me
I'm currently starting a PhD program in Computer Science here at the Univesity of Southern California. I did my undergraduate study in Computer Science and Engineering at UCLA, and before that I went to high school in San Diego.
Research Interests
I'm just starting to explore various areas of robotics, but a couple of areas which seem interesting so far are computer vision and mapping.
Other Interests
I like running, backpacking, and playing soccer when I get the chance. I also do the occasional triathlon.